Manufactured by Springs Window Fashions
Key Features
Heavy-duty 1%" x 2 1/4" low profile steel headrail
1'12" wide reinforced vinyl ladder tapes
Heavy duty 2.2mm lift and tilt cords
Available in 10 colors of 0.008" thick aluminum slats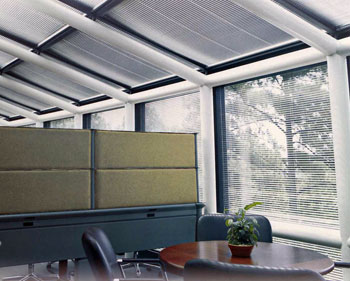 Product Specifications
SureClose Headrail is 1 5/8 " high by 2 1/4" deep, U-shaped channel with a 1/8 " light blocking lip on the bottom center line, fabricated from 0.022" thick phosphate treated steel with polyester primer and a top coat of polyester-baked enamel.
Bottomrail is 9/16 " high by 2" deep fabricated from 0.040" thick aluminum. It is fully enclosed with a dust cover slat and color coordinated with slats.
Slats made of cold rolled aluminum alloy. Slats are nominally 2" wide and 0.008" thick and finished with a polyesterbaked enamel with a durable anti-static, antimicrobial paint finish.
Cord Tilter is standard. It is a snap-in component incorporating a worm and pulley of low friction thermoplastic and a gear of nylon. Tilt cords are secured to pulley and treated with tassels at tilt end.

a.Wand Tilter is optional. It is of a zinc die cast worm and gear arrangement in a low-friction thermoplastic gear case. Wands are clear plastic.

Cord Lock is a metal snap-in design incorporating a floating shaft-type locking pin and is crash proof.
Tiltrod is electro-zinc coated solid steel measuring 1/4" square.
Tiltrod Supports are low friction thermoplastic and support tiltrod, centering ladder drums over ladder holes. They incorporate metal lift cord rollers to guide lift cords for smoother lifting and lowering operation.
Ladder Drums are made of high strength thermoplastic which securely attaches vinyl ladder tapes.
Vinyl Ladder Tapes are made of 1 1/2" wide reinforced vinyl that coordinate with slat color.
Lift Cords are made of braided polyester, measuring 2.2 mm in diameter.
Installation Brackets are phosphate treated steel with a polyester primer and polyester-baked enamel finish coat to match headrail.
If you are planning any design project, you can rely on Commercial Draperies Unlimited for service, quality and price.