State of the Art Performance in Horizontal Blinds
Premium Features at Standard prices
Utilizing an advanced headrail system, the S3000 offers a number of refinements. A light blocking lip at lower rear of headrail works in conjunction with the top slat to reduce light leakage when slats are closed. Top loading hidden brackets that position the blind closer to the mounting surface and a curved headrail face similar to a slat that eliminates the need for a valance allows a cleaner installation for improved aesthetics. Optional box brackets with a curved face are available in key colors. Lift cord rollers for easier lifting and lowering and clutch wand tilter are also standard features. The S4000 micro blind uses the same headrail system as S3000, but with nominal '/2 " wide slats and a small profile bottomrail.
Features & Benefits
Headrail with light blocking lip and curved headrail face

Eliminates light leakage at the headrail and provides a clean, finished look that blends with slats
Antistatic, antimicrobial paint finish
Easier to clean and reduces the static electricity that attracts dust
Perforated Slat option for S3000
Perforated 1" slats provide the appearance of solar mesh shades of a substantially lower cost
Privacy Slat option for S3000
Cord holes are hidden for enhanced light control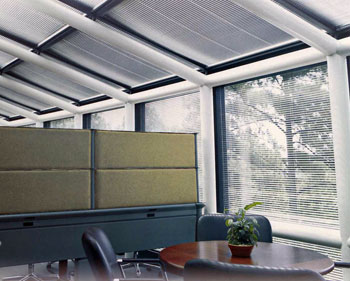 1" x 1 1/2" steel headrail
Extra heavy-duty strength allows widths up to 192" for 2 or 3 blinds on one headrail
1" mini slat thickness options of standard 0.006" or optional 0.008" and braided ladder spacing options of standard 2 1.5 or optional 20.0 mm; allows freedom in writing specifications
Lift cord rollers
Smoother lifting and lowering
Contract options
Top lock cord locks, tilt limiters
Lifetime warranty
Dependable quality
Product Specifications BALI S3000 MINI BLIND BALI S4000 MICRO BLIND
Manufactured by Springs Window Fashions
Headrail measures I high by I 1/2" deep. Headrail design to include rolled edges at top, light blocking lip at the lower back side and a curved headrail face similar to the crown of a I " slat. Headrail is phosphatetreated steel and is finished with a polyester primer and topcoat of polyester-baked enamel and shall measure 0.025" thick.
Bottomrail is tubular shaped and is phosphate-treated steel with polyester primer and a top coat of polyester-baked enamel and shall measure 0.025" thick. S3000 bottomrail is fully enclosed.
Slats made of cold rolled aluminum alloy. Slats are nominally I " wide and available in standard 0.006" or optional 0.008" thickness for S3000 and nominally 1/2" wide by 0.006" thick for 54000. Slats are finished with a polyester-baked enamel with a durable antistatic, antimicrobial point finish.

a. Perforated 1" Slat Option is available in White Satin, Alabaster, Brushed Aluminum, Smokey Gray, Char Brown and Black Satin with a 6% slat openness factor. Antistatic, antimicrobial paint finish not available.

b. Privacy Slat Option on S3000 provides 18 mm ladder spacing and cord holes that are offset and hidden by slat overlap for enhanced light control when slats are tilted down

Tilter is a worm and gear design in a fully enclosed housing. Design incorporates a clutch mechanism to eliminate damage due to overtilting.
Cord Lock is a snap-in design with stainless steel wear guard and a floating locking pin and is crash proof.
Tiltrod is hexagonal-shaped electro-zinc coated solid steel, measuring '14" at its widest point.
Tiltrod Support is low friction thermoplastic and will support tiltrod. Tiltrod support will position ladder drums and guide cords and ladders without abrasion. Tiltrod support incorporates lift cord rollers for easier and smoother lifting and lowering operation.
Ladder Drums are low friction thermoplastic with smooth hole edges to position ladders.
Ladder is made of braided polyester yarn, S3000 available with standard 21.5 or optional 20 mm spacing between slats. 54000 spacing is 12.5 mm.
Lift Cords made of braided polyester, measuring 1.4 mm in diameter.
Snap-in hidden brackets Brackets are made of zinc plated steel for easy installation. Brackets allow adequate space to accommodate power screwdriver for mounting. The brackets facilitate easy installation and removal of headrail channel. Additional brackets are supplied for blinds over 60". Optional steel end support box brackets are available in a limited color offering.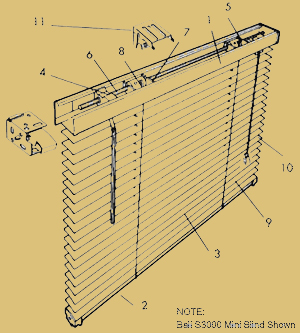 If you are planning any design project, you can rely on Commercial Draperies Unlimited
for service, quality and price.