Draper Clutch Operated Shades offer these desirable features:
Features & Benefits
Sleek, smoothly operating, bead chain control. Never needs adjustment. Our clutch operated shades are bidirectional and can be mounted for either right- or left-hand operation, as preferred.


Stainless steel operating chain, (standard), hangs at the side of the window, rather than the center, so nothing obstructs your view. Polyester chain optional at no extra cost.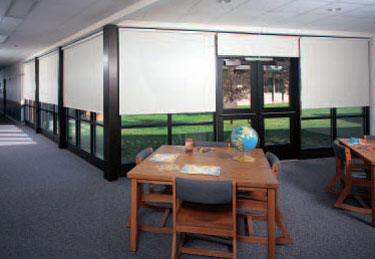 New universal brackets allow outside, ceiling or jamb mounting. The same bracket is used for clutch and idler ends (there are no right or left hand brackets). Brackets available in 15/8" (standard) and 21/4" (optional) extensions.


Optional white bracket covers available for 15/8" brackets.


Shades operate easily and stop automatically the moment you release the chain. Shades factory tested for proper operation.


In multiple window openings, all shades can be raised or lowered to exactly the same height. Preset "up" and "down" stops prevent shade from being raised or lowered too far.


Optional aluminum fascia and endcaps conceal roller and clutch mechanism for a clean, modern appearance. Finishes: silver (Standard), white, ivory, charcoal bronze and black also available by request at no additional charge.


Clutch operated shades are offered in a wide range of room darkening fabrics and woven mesh fabrics to control glare while retaining the view. Available through 12' wide x 12' high.
Product Specifications
Fabrics
- DRAPER clutch operated shades are offered in 9 room darkening and 17 light filtering woven mesh materials in a myriad of colors.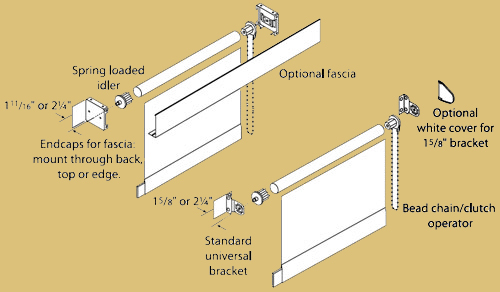 If you are planning any design project, you can rely on Commercial Draperies Unlimited
for service, quality and price.