Graber G-85 Dura-Vue® Vinyl Vertical Blinds are a great alternative to draperies. Available in Crown and Grotto. They're easier on your wallet and still offer a lovely, finished look. They not only look good, but they are very energy efficient, keeping your house cool in the summer and warm in the winter. You can use the Tilt Wand to choose how much light you do or do not want coming through the vanes and when closed, they offer perfect privacy.

Graber Smooth PVC Verticals are made with a durable and easy to operate headrail that will open and close your vertical blinds smoothly. The headrail also comes standard with a Valance that will complete the look of your windows or doors nicely. You can actually upgrade your valance for a small surcharge to Deluxe which has a slightly more fancy appeal. Speaking of the headrail, you can also choose how you would like our Smooth PVC Verticals to open. They can stack all the way left, right, or even both! Graber Smooth PVC Verticals also come standard with a Child Safety Pulley that prevents small children and pets from becoming tangled.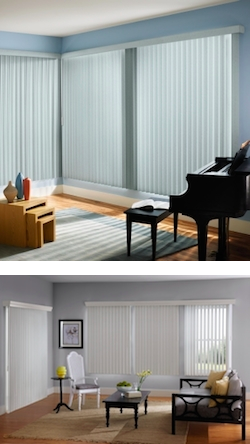 Headrail shall be roll-formed, phosphate-treated steel with a baked enamel finish in Ivory Gloss. Headrail shall measure 1½" wide x 1¼" high x .027" thick.


Carriers shall be made of molded nylon on traversing wheels and centrally located, making the headrail reversible. Detachable stems shall be clear, non-yellowing, Uv-stabilized nylon and are impact-resistant. Carriers and stems shall be replaceable without demounting the headrail.


Rotation control shall consist of #6 nickel-plated steel bead chain and a rack-and-pinion gear system, providing 180° direct rotation. The pinion rod shall be extruded aluminum 0.30" diameter.


Traversing control shall be a nylon strap system. Traverse cord is #3 braided polyester with a fiberglass core, 0.094" diameter and is equipped with a tension device and cord clip. The cord clip is placed above the tension device to prevent a hazardous cord loop. The cord clip should be properly anchored to the wall or window jamb in accordance with installation instructions and consistent with requirements of the American National Standard for Window Covering Safety ANSI-WCMA A100.1.


Installation brackets shall be made of zinc-plated, heat-treated steel and provided for overhead, wall or ceiling installation per the contract documents.


Louvers shall be selected from the Graber® line of PVC offerings in 2" or 3½" widths and/or fire-rated fabrics in 3½" widths. FR certifications are available upon request.
1½" x 1¼" roll-formed steel headrail
Wheeled carriers
Centered carrier stems
Clear non-yellowing stems
#6 nickel plated steel rotation chain
One Touch® wand control option
Ten-year headrail warranty
Meeting Specifications, Exceeding Expectations!
If you are planning any design project, you can rely on Commercial Draperies Unlimited
for service, quality and price
Click here or call us at 914-381-0413 to speak with a representative today!
You'll be glad you did.