Traditions 2" wood blinds come in a variety of finishes to create the effect you want.
The Graber Traditions Wood Blind Collection
provides an expanded choice of slat options suitable for commercial applications. Featuring a wide range of color choices in 2" slats plus a number of choices in our unique 2 1/2" shutter style slat as well as in 1" slats, the Traditions line of wood blinds will satisfy virtually any project requiring wood blinds. Additionally, unique product innovations deliver cleaner aesthetics and improved performance than more costly wood blinds provided by others. I " slat blinds will be provided on our Classics Mini Blind headrail system.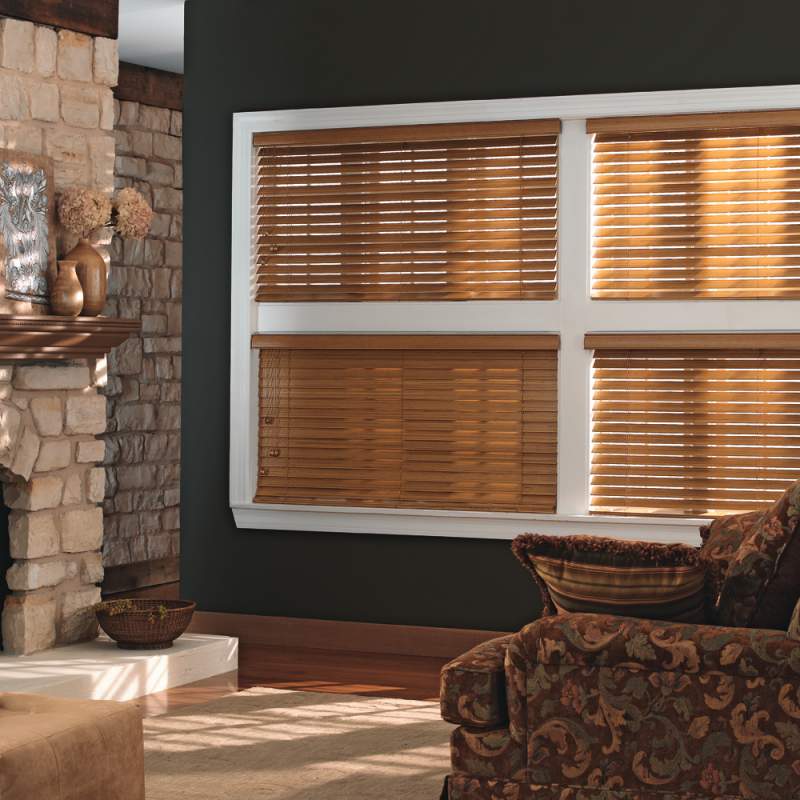 Features & Benefits
Wide range of slat choices including 2" and 1" slat sizes and unique 2 1/2" shutter style slat; most popular slat choices for virtually any application
SureClose headrail system for 2" and 21/2" slat blinds. Steel headrail with smaller 1 5/8" high profile; light blocking lip between headrail and top slat and a patented design that gives tighter slat closure.
Classics headrail system for I " slat blinds. Steel headrail with smaller 1" x 1 1/2" profile; same headrail that is used on Bali Classics mini blinds
Optional cloth tapes in 1 1/2" and 1" widths for 2" slat blinds for custom finish with accenting or coordinating tape color
NoHoles™ option for 2" and 21/2" slat blinds only. This option eliminates normal lift cord holes in the slat for superior light control and privacy. Not available with cloth tapes.
Valance Options include, Signature and Legacy styles
Product Specifications
GRABER TRADITIONS WOOD BLIND
Manufactured by Springs Window Fashions
SureClose Headrail for 2" and 21/2" measures 1/8" high by 2/4 " deep, U-shaped channel with a /a" light blocking lip on the bottom center line; fabricated from 0.022" thick phosphate-treated steel with polyester primer and a top coat of polyester-baked enamel.
Bottomrail is wood finished to coordinate with slat color. It measures 1/8" high by 2" deep in a trapezoid shape to improve slat closure.
Slats are made from North American hardwood, nominally 2" wide by '/8" thick.
Cord Tilter is standard. It is a snap-in component incorporating a worm and pulley of low friction thermoplastic and a gear of nylon. Tilt cords are secured to pulley and treated with tassels at tilt end.
a. Wand Tilter is optional. It is of a worm and gear arrangement in a totally enclosed gear case. The worm and gear is zinc die castings and the gear housing is low friction thermoplastic. Wands are made of wood finished to coordinate with slat color. Wands over 48" are clear plastic. Cord tilter is exclusive on 21/2" slat blinds.
Cord Lock is metal and is a snap-in design incorporating a floating shaft-type locking pin and is crash proof.
Tiltrod is electro-zinc coated solid steel measuring 1/4" square.
Tiltrod Supports are low friction thermoplastic and support tiltrod, centering ladder drums over ladder holes. They incorporate metal lift cord rollers to guide lift cords for smoother lifting and lowering operation.
Ladder Drums are made of high strength thermoplastic which securely attaches braided ladders or cloth tapes.
Braided Ladders/Cloth Tapes Braided ladder is made of braided high tenacity polyester yarn. Cloth tapes are made of polyester/rayon construction.
Lift Cords are made of braided polyester, measuring 1.8 mm in diameter.
Installation Brackets are phosphate treated steel with a polyester primer and polyester-baked enamel finish coat to match headrail. Intermediate support brackets supplied for blinds over 48" wide.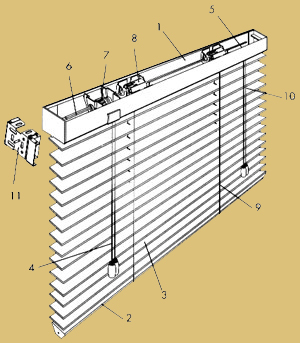 If you are planning any design project, you can rely on Commercial Draperies Unlimited
for service, quality and price
Click here or call us at 914-381-0413 to speak with a representative today!
You'll be glad you did.