The Graber Ultra-Vue™ provides our newest level of performance.
The Graber Ultra-Vue™ system
provides state of the art performance in the vertical blind category. Featuring a heavy duty extruded aluminum headrail, wheeled carriers, self aligning carrier stems and a stainless steel spacing system, the Ultra Vue provides the highest level of performance. It is available with standard chain and cord controls or with our optional One Touch, wand control that eliminates cord and chains.
Features and Benefits
1 3/8" X 1 3/16" extruded aluminum headrail
Extra heavy duty strength allows widths up to 191"
Self aligning carrier stems
Eliminates out of sync louvers
Stainless steel carrier spacing system
Precise spacing of louvers with smooth traversing operation
Optional One Touch wand control
Replaces chain and cord controls with a simple to use wand control for traversing and rotating louvers, One Touch wand available on one way draw control only
Stack release
Allows louver stock to be moved for window cleaning
Clear, non yellowing carrier stems
Clean look, less obtrusive
Lifetime headrail warranty
Dependable quality






Product Specifications

GRABER ULTRA VUE VERTICAL BLINDS

Manufactured by Springs Window Fashions



Headrail is bright dip anodized aluminum alloy 6063-T5, measuring 1 3/8" in width and 1 3/16" in height, with a wall thickness of 0.050". Custom color matching is available with minimum requirement.
Carriers are molded acetal with a detachable self aligning carrier stem which is molded in clear, non yellowing high impact resistant nylon. Carrier stems are replaceable without demounting headrail. Carriers traverse on self lubricating wheels and have stems positioned in the center, making track reversible.
Rotation Control: A #6 nickel plated steel bead chain equipped with two tassels rotates the gear assembly. This drives an extruded 0.235" diameter aluminum pinion rod that rotates self aligning carrier stems.
Traversing and Spacing of Louvers is achieved with a stainless steel spacer system connecting each carrier body, providing visually uniform louver spacing. Louvers overlap no less than 3/8" Traverse cord is Danskord 1.8 mm in diameter with a minimum tensile strength of 125 pounds and is equipped with a cord tension pulley. Stack release is standard, allowing for louvers to be moved away from the control end for window cleaning.
Louvers are selected from vertical sample selection consisting of 3/2 " wide fabric and PVC louvers and 2" PVC louvers. Standard is no bottom chain, with a single chain as an option. Bottom chain not available on all louvers. Fabric louvers contain a sewn in bottom weight.
Installation Clips for ceiling mount are made of zinc plated, heat treated spring steel. For wall mounts, spring clips will be attached to angle brackets of galvanized steel with an adjustable range of 3" to 5".
Size Limitations: Maximum width is 191" for 3 1/2" louvers, 157 1/2" for 2" PVC louvers. Maximum drop is 144" except for channel panel louvers, which is 120". See point 9 for One Touch limitations.
Chain and Cord Control Options include: one way draw, stack left or right, one way draw with opposite stack, center opening and center stack. Center opening not available with 2" PVC.
Optional One Touch Wand Control replaces cord and chain controls. Pultruded fiberglass wand rotates and traverses louvers. Wand control incorporates clutch to eliminate damage by over rotating wand. Size limitation with One Touch control is 70 square feet. Maximum width is 156" with a 64 1/2" drop. Maximum drop is 114" with an 88" width. Maximum drop of 114" includes sill height in overall measurements. Split draw not available with One Touch. Not available with 2" PVC.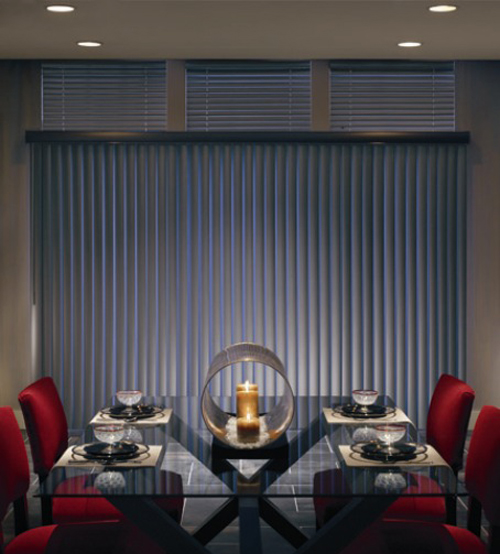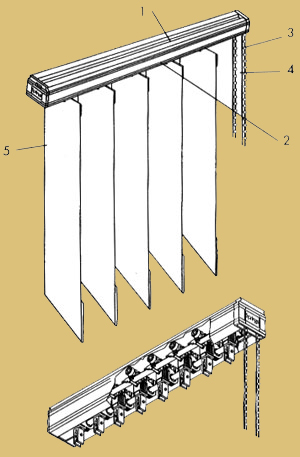 Meeting Specifications,
Exceeding Expectations!
If you are planning any design project, you can rely on Commercial Draperies Unlimited
for service, quality and price
Click here or call us at 914-381-0413 to speak with a representative today!
You'll be glad you did.