Ideal for larger installations, our CE aluminum horizontal blinds feature our sturdiest headrail for 1" blinds. The steel headrail measures 1" x 1-1/2", offering extra durability for openings up to 144" x 144".
Key Features:
Slats contain 95% recycled aluminum and are GREENGUARD Indoor Air Quality Certified®
Bounceback slats with heat-treated, spring-tempered aluminum for unmatched durability
Proprietary anti-static Dust Shield® finish and closed oval bottom rail inhibit dust buildup
Clutch tilter prevents over-rotation and damage
Specialty shapes available, including angles and ovals
Product Details:
Headrail: 1" x 1 1/2", steel
Braided Ladders: 100% polyester yarn color compatible with slats
Mechanisms: slip clutch tilter, closed oval bottom rail
Widths: 10½" to 144" *
Max height: 144" *
Design Options: motorization, hidden brackets, limited tilt, custom valance, pivot plates, two position cord lock with ring pull, perforated slat (.008" only)
* Widths from 8½" and heights above 144" available; surcharges and warranty exclusions apply.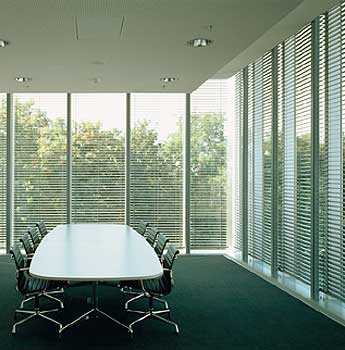 "Meeting Specifications,
Exceeding Expectations!"
If you are planning any design project, you can rely on Commercial Draperies Unlimited for service, quality and price.
Call us at 914-381-0413 to speak with a representative today! You'll be glad you did.