Track IFC-1000
Extruded of 6063-T5 aluminum alloy, 1-9/16" x 15/16" with a.075" minimum wall thickness. Maximum length is 22'without splicing. Most oval shape tracks can be supplied with just one splice. Two finishes are available, either a 204-R1 satin anodize or a white acrylic electrostatic paint.
Carrier IFC-1007
Four wheel, 11 / 1 6" diameter molded delrin wheels mounted on solid aluminum block with 1018 steel axles and tru-arc ring that locks. Pendant ring of 303 stainless steel, electro-polished with integrated locking ring of 1/8" x I- 1 14" diameter delrin, one 3601 counter-clockwise turn to locked position.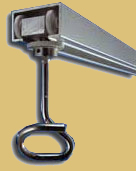 "Meeting Specifications,
Exceeding Expectations!"
If you are planning any design project,
you can rely on Commercial Draperies Unlimited for service, quality and price.
Call us at 914-381-0413 to speak with a representative today!
You'll be glad you did.