Kirsch, the most widely specified window hardware brand, offers a complete selection of window hardware
and drapery heading systems suitable for virtually any installation.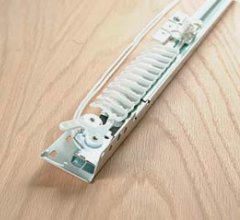 Kirsch Superfine is a state of the art traverse rod that is the standard of the industry. Superfine is often imitated, but never duplicated. The unique features of Superfine are a result of Kirsch's meticulous attention to detail that can't be matched!
Superfine's unique design makes it the strongest, most stylish and smoothest operating rod on the market. The patented angled design allows drapery headings to stand erect. Superfine rods provide smooth traversing and eliminate rough edges.
These exclusive traverse rods are available as push-in or drop-in installation.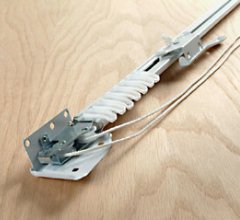 Empire traverse rods perform well on light and medium weight draperies up to 180 inches wide. Created with a heavy-gauge steel construction, Empire rods ensure a streamlined profile and dependable, trouble free operation. The master carrier on our Empire rod is molded of extra strong Celcon; a material that will hold more weight with less distortion than metal or other plastics and will return to its original shape after heavy use. The unique design of the master arm permits the hook on the under lap drapery edge to be inserted so draperies close easily and completely, thereby eliminating fraying due to rubbing of fabric on underlying panels.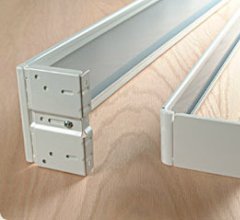 As window design and window décor evolved, the need for a curtain rod with the ability to hold heavy fabric and accomodate large curtain pockets emerged, and spurred Kirsch's invention of the Continental Pocket Rod. The Continental I is 4.5" wide to carry curtains with a 5.5" pocket and provides a unique shirred heading look. It works especially well as a valance for a variety of undertreatments.
The Continental II is a 2.5" rod that slips through a curtain with a 3" pocket. The Continental II is a smaller version of the Continental I rod, designed to provide a better-proportioned look at doors and smaller windows.
A Coninental II flexible corner kit is also available.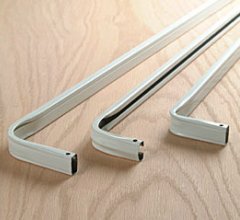 Kirsch's Lockseam rods are the strongest and most versatile rods on the market today. These traverse rods are enclosed on the back side to provide added strength and durability by preventing sagging, twisting and bending with no exposed edges to snag curtains.
Lockseam rods are available in single, double, extended or triple rod configurations.
The Super Kirco curtain rods are a medium duty rod with an open back design with rolled edges and a uniquely creased rod face to build added strength.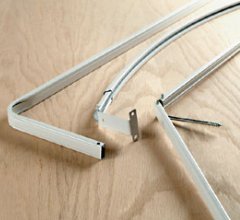 Window designs can be as unique as the windows fashions themselves. That's why Kirsch has developed an extensive line of special purpose curtain rods to meet the high demand of today's most stylish window designs, including Curved rods, Corner rods-Lockseam, Bay rods-Lockseam, and Valance rods.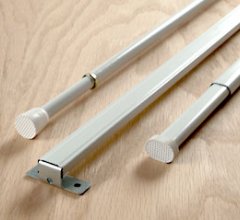 Shash Rods fit closely to windows and are recommended for door applications when rods shouldb be threaded through the curtain. Kirsch Sash rods are available in both flat or round styles in a variety of widths to help you acheive the perfect look for any window.
Spring Tension Rods allo for stationary curtains without creating holese in walls. Instead of screws, these rods use a spring to provide a firm fit in a window encasement. Simply thread the rod throught the curtain or attach fabrick with café clips. Spring Tension Rods are available in round or oval styles and in varying widths.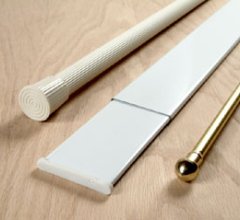 Ideal for kitchens and dining areas where both privacy and natural light are desired, Café Rods parallel decorative traverse rods, however enable soft treatments to be installed halfway up the widnow. Kirsch's round styled Café Rods are available in 7/16", 9/16", and 13/16" diameters.
Coordinating styles and finsihese help achieve a total unified windows fashion with a decorative traverse rod at the top of the window and a café rod mid-way up the window.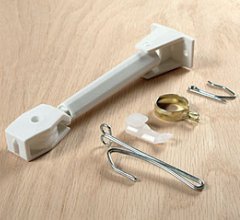 All Kirsch curtain rods include the necessary barackets and supports needed for installation. However, additional brackets, supports and carriers are available to meet the needs of each unique look. Among the exciting accessories available, Kirsch offers: Café Clips, Pin-on Hooks, Slip in Hooks, Rod Extenders, Cord Repair Kits, Brackets, Supports, and Carriers.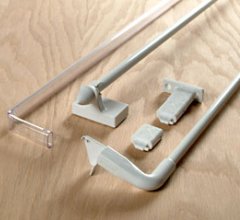 Kirsch continuously develops products that support emerging trends and ease the installation process. Our new basic drapery hardware products include: Clear Curtain Rods, Magnetic Café Rods, Adjustable Bracket Kits, and Twist & Fit tension rods.
If you are planning any design project,
you can rely on Commercial Draperies Unlimited for service, quality and price.
Call us at 914-381-0413 to speak with a representative today!
You'll be glad you did.