Mechoshade® WhisperTrak™ Motorized Drapery System
Heavy Duty & Medium Duty Drapery Systems
WhisperTrak™, a versatile family of motorized drapery products is setting a new standard in design and function for motorized drapery solutions. In addition to its clean, monochromatic, European design, WhisperTrak™ is whisper quiet and can bend to the tightest radius for curved conditions. Depending on design, control and size requirements, you can now select the best motor to fit your application, as all WhisperTrak™ systems utilize the same bus network and share a common aluminum profile, providing consistent design aesthetics. The flexibility of the DT20, DT30 & DT32 motor drives offers quiet 24 volt operation, which makes powering these systems as easy as plugging in a lamp.
WhisperTrak™ Family of Motors
The DT20 System
is the most powerful, yet whisper quiet, architectural motorized drapery system with maximum weight loads of 220 lbs. Whether straight or curved, the DT20 System can handle over 58 feet of drapery and is programmable up to 5 intermediate stop positions. It can be easily programmed using the infrared transmitter and is suitable for both 110 and 240 Volt supply. WhisperTrak™ DT20 Series can be installed without the need of an electrician, and can be integrated with lighting and A/V control systems via CAN bus or dry contact systems. WhisperTrak™ DT20 Series motors can also be installed in an addressable network with local, sub-group and master control zones. This series can also be assembled as a tandem system for increased weight load capacity. The standard drapery travel speed is 5.9"/sec. It is fully programmable and customizable by factory.
WhisperTrak™ DT30 & DT32 Systems
Conversationally quiet, these low voltage (24V) electrically powered drapery track systems are suitable for light / medium weight draperies. Requiring no pre-wiring and developed for contemporary living environments – DT30 & DT32 Series can be used in the hotel, education and leisure industries by people with limited mobility.
These motors can be daisy chained into a master control circuit and integrated with lighting and A/V control systems via CAN bus or dry contact system.
Special Qualities
Whisper quiet operation (DT20 System)
Conversationally quiet (DT30 & DT32 Series)
System suitable for most drapery weights and applications (DT20 System)
Strong motors with low system resistance
Delivered pre-wired for simple 24-Volt installation
Easy control and setting of the system using infrared remote
Up to 5 intermediate programmable stop positions (DT20 System)
All three motors can be combined together via IR system, wall switches and/or third party control systems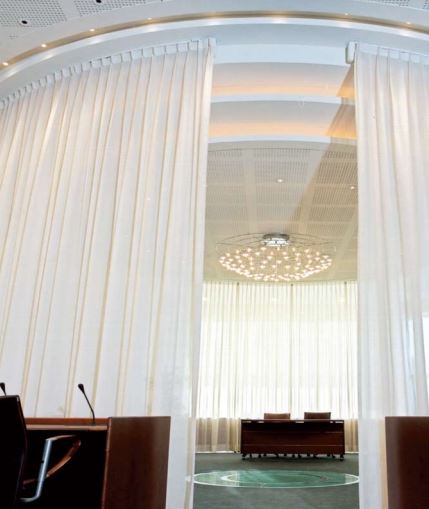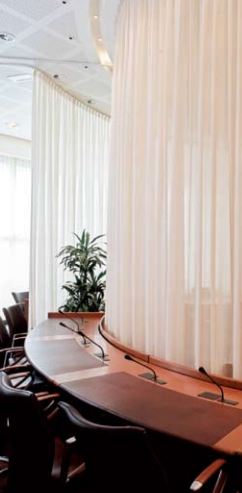 Configuration shown is tandem with optional accessories.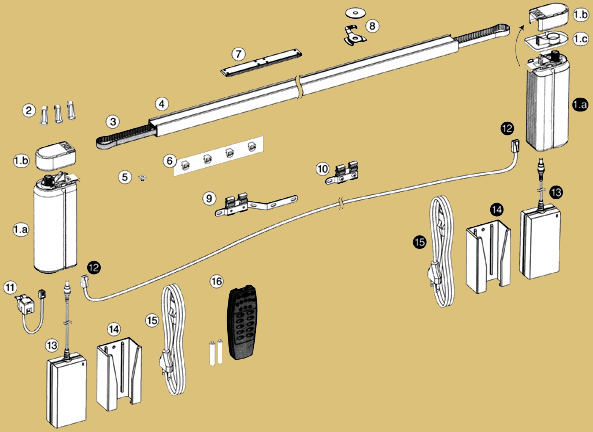 1.a Motor
1.b Drive Belt Pulley
1.c Drive Belt Pulley Cover
2 Motor Mask Hooks
3 Drive Belt 0.39" (10mm)
4 Aluminum Profile
5 End -Stop
6 Glider
7 Internal Conecting Bridge
8 Ceiling Fixing Clamp (standard)
9 Overlap Carrier
10 Underlap Carrier
11 IR Receiver
12 Motor Link Cable
13 HD20 Series Transformer
14 Transformer Wall Holster
15 12 ft. Power Cable
16 IR Transmitter

# Needed for tandem installation only
Meeting Specifications, Exceeding Expectations!
If you are planning any design project, you can rely on Commercial Draperies Unlimited
for service, quality and price
Call us at 914-381-0413 to speak with a representative today!